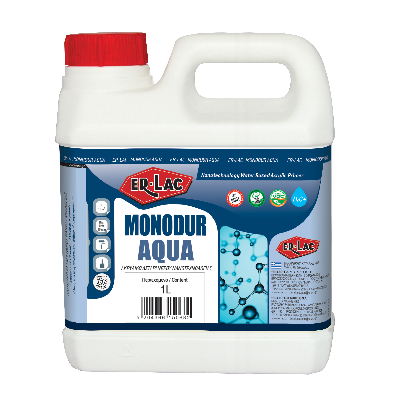 Building, Special Applications
MONODUR AQUA
Nanotechnology Water Based Acrylic Primer
Usage:
Interior, Exterior
Surface Material:
Plaster, Gypsumboard
Purpose:
Insulation, Adhesion, Waterproofing joints - cracks

General characteristics
MONODUR AQUA is a low odor, micronized acrylic water based primer, for interior and exterior walls and ceilings.It is a nanotechnology product with an average particle size of < 50 nanometers. It has excellent impregnation in greater depth and range, it has stronger adhesion, it stabilizes dust and loose substrates such as old paints, plasters, putties, watercolors, etc. and it is "breathable". It offers excellent insulation to prevent the migration of dissolved salts from the substrate with the help of moisture to the final coating It has excellent resistance to alkaline surfaces. It has easy application, excellent spreading, and fast drying.It is lightly tinted, in order for the user to recognize the painted surface, without affecting the performance and coverage of the final coatings.It is suitable for children's rooms, schools, and hospitals.
Technical information
METHOD OF APPLICATION
Brush, Roller
THINNING
50-100% v/v with Water