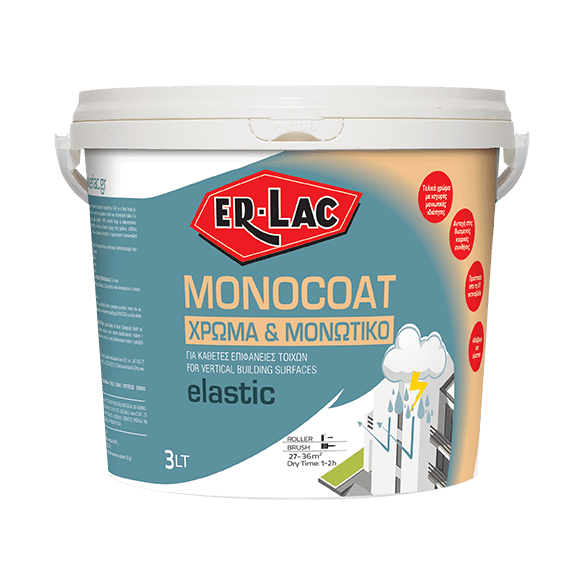 Building
MONOCOAT
Waterproof, elastic, insulating, superior quality paint
Surface Material:
Plaster, Gypsumboard, Cement, Concrete
Purpose:
Final Coat, Insulation

General characteristics
MONOCOAT is an elastic, final coating paint with strong insulating properties, for vertical building surfaces indoors and outdoors. It has all the properties of the best 100% acrylic paint, while it ensures at the same time excellent insulation and is impervious to humidity. It retains elasticity for a long time, has very good adhesion on rough surfaces and outstanding resistances under bad weather conditions. It protects the outdoor concrete building surfaces from carbonation pilling-up and the reinforcements from soil erosion and swelling. It becomes a shield against UV radiation, without yellowing.
Technical information
METHOD OF APPLICATION
Roller, Brush
THINNING
10-20% v/v with Water
PACKAGING
Base: 3L, 10L
White: 3L, 10L
Paint system
The best paint system is presented taking into account factors of ecology, quality, cost and properties. There is also the option of choosing other products for the same use.
If the surface is new, prepare it  with the transparent waterproof insulating primer MONODUR diluted 10-40% v/v with WS-100 and then apply the final color MONOCOAT diluted 10-20% v/v with water.