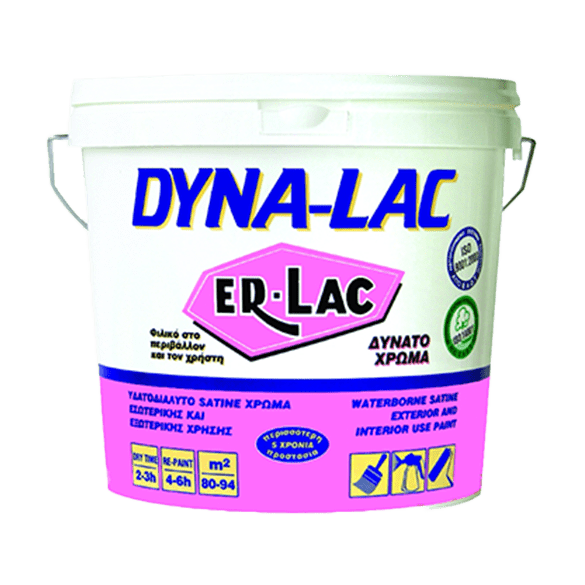 Building
DYNA-LAC
100% acrylic superior quality satin paint
Usage:
Interior, Exterior
Surface Material:
Plaster, Gypsumboard, Cement, Concrete
Purpose:
Final Coat, Antimold



General characteristics
DYNA-LAC is a high quality water soluble light satin emulsion paint based on acrylic polymer for indooroutdoor use. It gives a semi-gloss surface, which repels dirt and it is self-washable by rain water. It provides excellent adhesion and elasticity, is yellowing resistant and does not flake off. It is especially resistant to the rays of sun, extreme temperature changes and heavy environmental conditions (buildings next to the sea and next to industrial areas). It does not allow the buildup of moisture, algae, and mould even under extreme humidity. It can replace solvent-based paints. It provides better insulation impermeability to water, is not affected by UV radiation and it is the most suitable for outdoor surfaces. Since it does not contain solvents and hard metals (cobalt) it is totally non toxic, and it is especially recommended for application on residential places children's rooms, nursery schools, hospitals e.t.c.
Technical information
METHOD OF APPLICATION
Roller, Brush
THINNING
10-20% v/v with Water
PACKAGING
Base: 1L, 3L, 10L
White: 0.75L , 3L, 10L
Paint system
The best paint system is presented taking into account factors of ecology, quality, cost and properties. There is also the option of choosing other products for the same use.
If the surface is new, prepare it  with the transparent waterproof insulating primer MONODUR diluted 10-40% v/v with WS-100 and then apply the final color DYNA-LAC diluted 10-20% v/v with water.