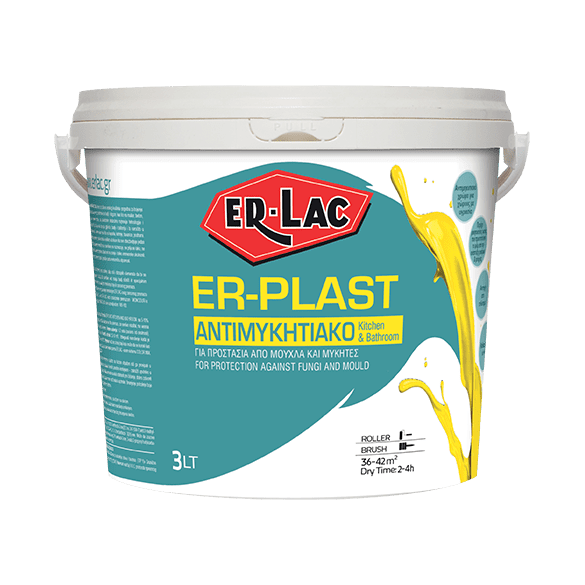 Building
ER-PLAST KITCHEN AND BATHROOM
Certified antimicrobial excellent quality emulsion paint with antifungal action
Usage:
Interior, Exterior
Surface Material:
Plaster, Gypsumboard, Cement, Concrete κ.α.
Purpose:
Final Coat, Antimold, Antifungi


General characteristics
ER-PLAST KITCHEN AND BATHROOM is a high quality plastic paint suitable for painting and protection of interior and exterior surfaces that face problems of mold and moisture, such as plasters, concrete, cement, plasterboard, etc. Its innovative new composition, with special state-of-the-art additives and fungicides, protects the paint film from the growth of fungi, mold and bacteria, especially in areas with moisture and water vapor problems such as bathrooms, kitchens, ceilings and basements.It stands out for its excellent whiteness, high coverage and high performance, which offer a sure and unchanging result. It also has excellent adhesion and elasticity, perfect spread, does not get dirty easily, does not yellow over time and does not peel, while it also has excellent resistance to washing and in difficult weather conditions. It is washed 3 weeks after its application, at which time it has acquired its full mechanical strength. It does not contain ammonia.
Technical information
METHOD OF APPLICATION
Roller, Brush
THINNING
5-10% v/v with Water
Paint system
The best paint system is presented taking into account factors of ecology, quality, cost and properties. There is also the option of choosing other products for the same use.
If the surface is new, prepare it  with the transparent acrylic water-based primer MONODUR AQUA diluted 50-100% v/v with water and then apply the final color ER-PLAST KITCHEN AND BATHROOM diluted 5-10% v/v with water.