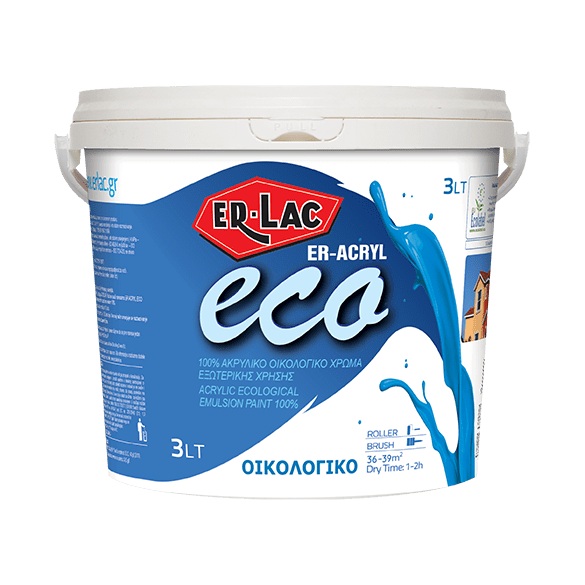 Building
ER-ACRYL ECO
Ecological, 100% Acrylic high quality exterior paint
Surface Material:
Plaster, Cement, Concrete

General characteristics
ER-ACRYL ECO is an odorless, high-quality, acrylic-based emulsion paint. It is certified by ASAOS and fulfills the criteria of the European Union Eco-Label Board. It's special innovative composition does not pollute the environment and provides protection for the user. It combines great whiteness, hiding power (7.57 m2/L for full coverage 98% – ISO 6504/3), ease of application and excellent leveling. It has great resistance to water permeability (Class 3 – DIN EN 1062-3:1999). It has excellent resistance to extreme weather conditions, very good adhesion (4 Mpa- ISO 4624) and resistance to aging (no chalking – ISO 4628-6, no flaking ISO 4628-5, no cracking – ISO 4628-4, no alter in color over time – ISO 7724-2/3, no bubbles – ISO 4628-2). It has very good resistance to alkali – ISO 2812-4:2007. It provides high coverage and very good coating spread.
Technical information
METHOD OF APPLICATION
Roller, Brush
THINNING
15% v/v with Water
PACKAGING
Base: 1L, 3L, 10L
White: 1L , 3L, 10L
Paint system
The best paint system is presented taking into account factors of ecology, quality, cost and properties. There is also the option of choosing other products for the same use.
If the surface is new, prepare it  with the transparent waterproof insulating primer MONODUR diluted 10-40% v/v with WS-100 and then apply the final color ER-ACRYL ECO diluted 10-15% v/v with water.