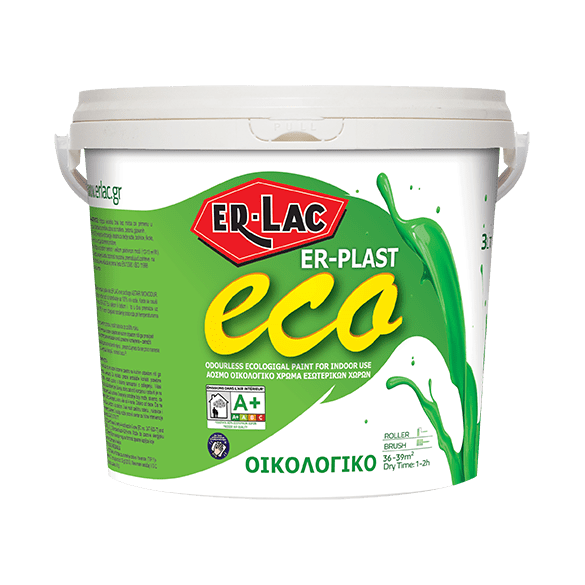 Building
ER-PLAST ECO
Odorless, ecological superior quality emulsion interior paint
Surface Material:
Plaster, Gypsumboard



General characteristics
ER-PLAST ECO is a completely odorless ecological paint for indoor use. vIt is certified by ASAOS and fulfills the criteria of the European Union Eco-Label Board. Applied on building wall surfaces such as plaster, concrete, gypsumboard, e.t.c. ER-PLAST ECO is a high technology paint suitable for children's rooms, hospitals, schools, kindergartens and in general for all indoor spaces. It provides high coverage and very good coating spread. It provides vivid whiteness, excellent adhesion and elasticity, does not yellow over time and does not flake off. Is stain resistant, easily cleaned, wash resistant fulfilling the demands of the washing tests. The resistances are so high that according to the EN 13300 and EN ISO 11998 is qualified as a brush washing resistant paint. It is certified in the A+ Category of the French VOC Regulation from the accredited laboratory Eurofins. It is classified as a "Low – Emitting Material" according to the requirements of LEED v4.1Green Buildings.
Technical information
METHOD OF APPLICATION
Roller, Brush
THINNING
12-15% v/v with Water
PACKAGING
Base: 1L, 3L, 10L
White: 0.75L , 3L, 10L
Paint system
The best paint system is presented taking into account factors of ecology, quality, cost and properties. There is also the option of choosing other products for the same use.
If the surface is new, prepare it  with the transparent acrylic water-based primer MONODUR AQUA diluted 50-100% v/v with water and then apply the final color ER-PLAST ECO diluted 5-10% v/v with water.