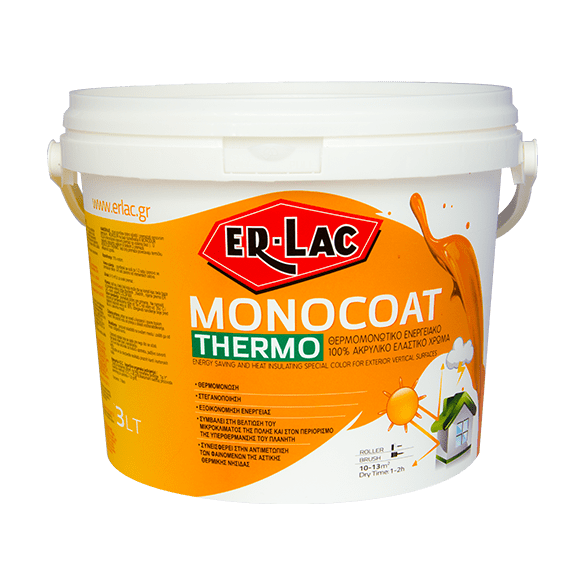 Building
MONOCOAT THERMO
Energy saving, heat insulating, superior quality special "cold" paint
Surface Material:
Plaster, Gypsumboard, Cement, Concrete
Purpose:
Final Coat, Heat insulation, Insulation

General characteristics
MONOCOAT THERMO is a energy saving and heat insulating special color for exterior vertical surfaces of buildings and rooftops, based on purified acrylic UV-core crossing elastic resins and advanced technological micro spheres with special abilities to reflect and insulate heat. It is suitable for outdoor vertical surfaces and rooftops. It is certified by the Environmental Buildings Studies laboratory, Department of Physics, University of Athens for its excellent properties and its insulating power. It stands out for its pioneering synthesis and innovative technology that provide the unique "cold" characteristics. Its special features, combined with very low thermal conductivity of the MONOCOAT THERMO makes it the ideal solution for improving the energy efficiency of buildings, because it reduces surface temperatures and furthermore the internal temperatures and does not transmit heat through the wall, offering significant energy savings due to the reduced air-conditioning and central heating requirements. The product contributes to addressing the heat island effect; improve the microclimate of cities and reducing global warming effect. It is easily applied, has great covering ability and provides excellent thermal protection, water insulation and sound insulation in buildings. It has excellent resistance to extreme weather conditions and air pollution.
Technical information
METHOD OF APPLICATION
Roller, Brush
THINNING
10 v/v with Water
Paint system
The best paint system is presented taking into account factors of ecology, quality, cost and properties. There is also the option of choosing other products for the same use.
If the surface is new, prepare it  with the transparent waterproof insulating primer MONODUR diluted 10-40% v/v with WS-100 and then apply the final color MONOCOAT THERMO diluted 10% v/v with water.