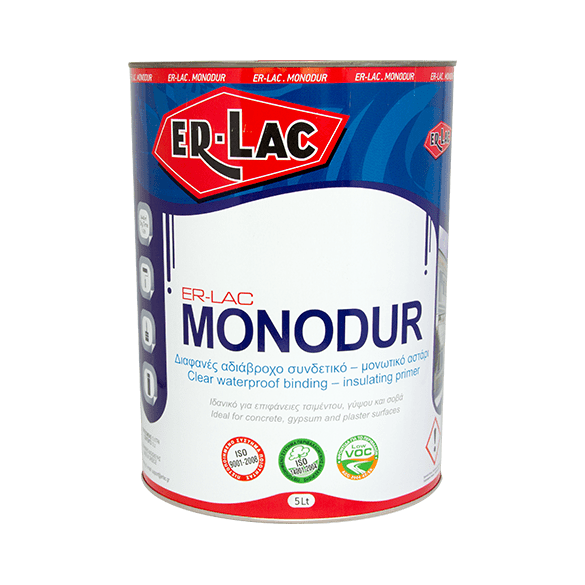 Building
MONODUR
Clear, waterproof insulating undercoat
Usage:
Interior, Exterior
Surface Material:
Plaster, Gypsumboard, Cement, Concrete
Purpose:
Insulation, Adhesion, Waterproofing joints - cracks
General characteristics
ΜONODUR is a clear, colorless, insulating, acrylic-based primer for decorative paints. Ideal for surfaces of concrete, asbestos, cement, gypsum, masonry, novopan, bricks. Best for old surfaces with adhesion problems due to previous painting with whitewash, bad quality coating. It has high resistance to alkaline surfaces, waterproofs them and ensures strong adhesion and high pervasiveness into the pores of wood. It offers high resistance properties, isolates all dirt and stops its going over the final coats. MONODUR replaces the old-fashioned way of undercoating with linseed oil.
Technical information
METHOD OF APPLICATION
Brush, Roller
THINNING
10-40% v/v with WS-100