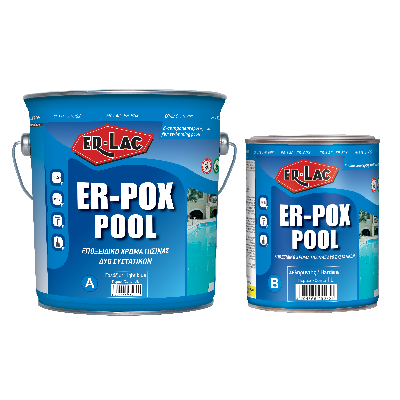 Building, Industrial, Special Applications
ER-POX SWIMMING POOL
2Κ epoxy paint for swimming pools
Surface Material:
Cement, Concrete
General characteristics
ER-POX SWIMMING POOL 2-component paint based on special type epoxy resins for swimming pools. It ensures excellent adhesion on metal and concrete surfaces, hardness, elasticity and very good resistances to chemical reactions (suitable for sea water). It has very good water impermeability. Thanks to its special composition provides longtime protection, eliminates chalking and stripping effect and retains elasticity.
Technical information
METHOD OF APPLICATION
Brush, Roller, Spray Gun, Airless
THINNING
10% v/v with ER-POX EP-113
Paint system
The best paint system is presented taking into account factors of ecology, quality, cost and properties. There is also the option of choosing other products for the same use.
Prepare the surface with ER-POX POOL diluted 30% v/v with ER-POX EP-113 and then apply the ER-POX POOL diluted 10% v/v with ER-POX EP-113.