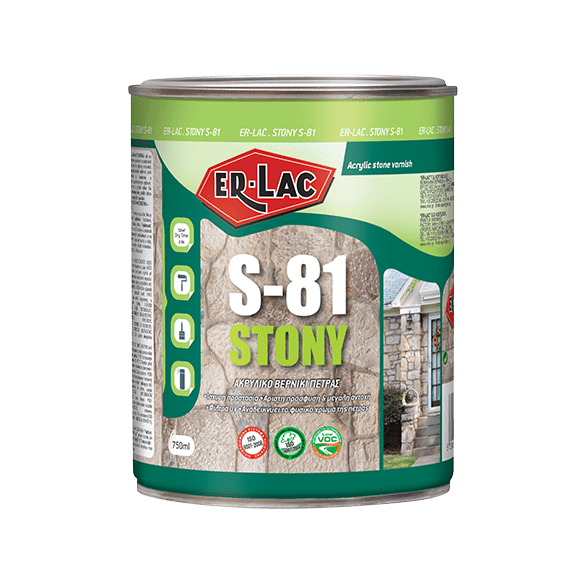 Building
STONY S-81
Transparent acrylic based varnish for stones
Usage:
Interior, Exterior
Purpose:
Final Clear Coat, Stone protection
General characteristics
STONY S-81 is a transparent, waterproofing, bonding and protective varnish for stones and other building materials. It is suitable for stones, marvels, bricks, tiles as well as internal and external stone wood coverings, such as external building facades, interior main entrances, fireplaces etc. It stands out for its ability to penetrate deep into the pores and to bring out the natural colors of the surface. It protects the stones from harsh weather conditions and moisture. It also has excellent resistance to impact and abrasion, it is not affected by solar radiation, it does not yellow with time and will not peel off. It may be refreshed with the same material without rubbing.
Technical information
METHOD OF APPLICATION
Brush, Roller, Spray Gun, Airless
DEEP DRYING
ελεύθερο σκόνης:10min ,ελευθερο στην αφή:25min ,σε βάθος:2-3h