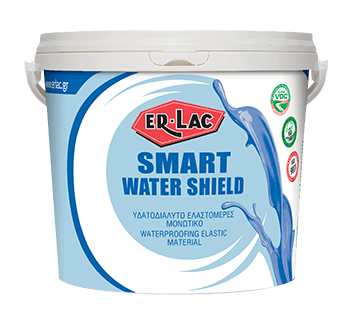 Building
SMART WATER SHIELD
High quality water soluble elastomer roofing waterproofing & insulation
Surface Material:
Cement, Concrete
General characteristics
SMART WATER-SHIELD is a water-soluble acrylic-based elastomeric insulator-sealant. It is ideal for insulation of roofs, north walls, gutters, etc. Ensures excellent adhesion and high waterproofing and thermal insulation properties. It has great impermeability to water, vapor and moisture and maintains its elasticity over time. It has excellent resistance to sunlight in difficult weather conditions and does not peel.
Technical information
METHOD OF APPLICATION
Roller, Brush, Spray Gun
THINNING
Roller, Brush: Ready to use, Spray Gun: 30% v/v with Water
Paint system
The best paint system is presented taking into account factors of ecology, quality, cost and properties. There is also the option of choosing other products for the same use.
Prepare the roof with the transparent waterproof insulating primer MONODUR diluted 10-40% v/v with WS-100 and then apply the elastomeric sealing and insulating coat SMART WATER-SHIELD diluted 0-30% v/v with water.