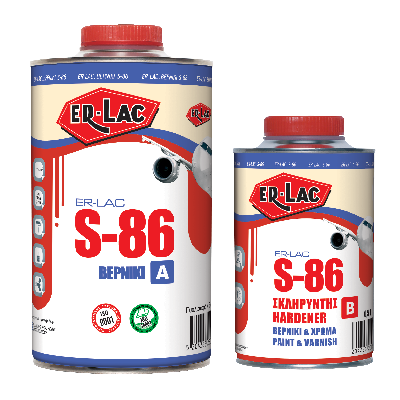 Building
S-86 ΒΕΡΝΙΚΙ
2K Varnish for wood surfaces or stone
Usage:
Interior, Exterior
Surface Material:
Metal, Wood, Stone, Glass
Purpose:
Final Clear Coat

General characteristics
S-86 VARNISH is a 2 component special varnish, which can resist outdoor exposure. It has excellent adhesion, non-stripping and non-yellowing properties offering protection for a long time. It is resistant to solar radiation and retains its elasticity. It is ideal for coating protection of all types of stones for indoor and outdoor applications. It has very good mechanical resistances and excellent friction resistances.
Technical information
METHOD OF APPLICATION
Brush, Roller, Spray Gun, Airless
THINNING
20-30% v/v with Νο.200
DEEP DRYING
ελευθερο στην αφή:1h ,σε βάθος:12-16h
PACKAGING
A: 1L, 4L
B: 0.5L, 2L
REPAINT TIME
ελεύθερο στην αφή: 1h, σε βάθος: 12-16h