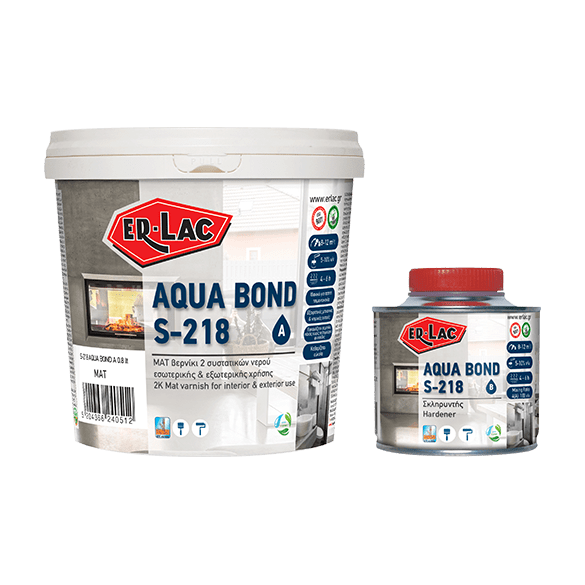 Special Applications
S-218 AQUA BOND
2K matt aliphatic poly-urethane varnish for interior and exterior use
Usage:
Interior, Exterior
Surface Material:
Cement, Concrete, Iso concrete, Brick, Stone
Purpose:
Final Clear Coat, Insulation, Stone protection
General characteristics
S-218 AQUA BOND is a two-component, high-quality, water-based two-component aliphatic polyurethane varnish. It is suitable for indoor and outdoor use on surfaces made of pressed cement mortar, reinforced concrete, natural stones, decorative bricks and as a final layer over industrial floors. Wets, stabilizes and protects surfaces giving hardness and resistance to chemical effects (detergents, oils, sea water).It is resistant to daily stress and frequent washing. It stands out for its easy application, and for its ability to be applied in a large thickness without creating bubbles, as a result of which less application layers are needed. Highlights the surfaces and protects them from mechanical effects (scratches) and from the accumulation of pollutants. It is the ideal solution for a long-term result since it does not yellow and does not dim and retains its properties for many years. It is very hard to withstand abrasion and not scratch while at the same time it has great elasticity.
Technical information
METHOD OF APPLICATION
Roller, Brush, Spray Gun
PACKAGING
A: 0.800L, 3L B: 0.200L, 0.75L
Paint system
The best paint system is presented taking into account factors of ecology, quality, cost and properties. There is also the option of choosing other products for the same use.