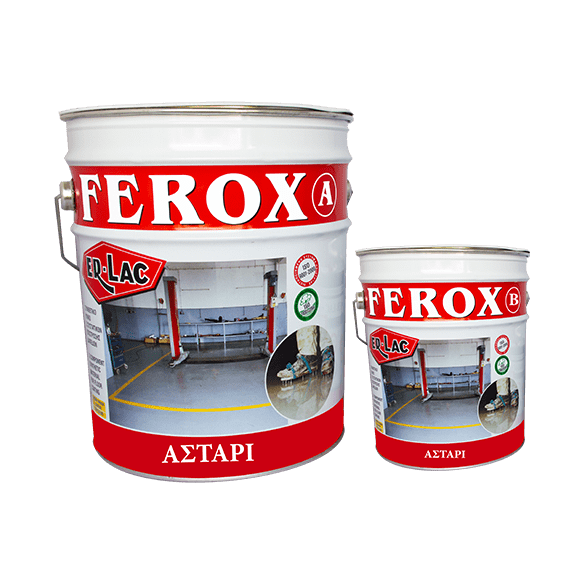 Building, Industrial, Special Applications
FEROX PRIMER
2K Epoxy-based transparent adhesion and stabilization primer
Usage:
Interior, Exterior
Surface Material:
Cement, Concrete, Tile
Purpose:
Epoxy Floor Coatings
General characteristics
FEROX PRIMER is a two-component epoxy-based transparent primer. It is suitable for floors made of cement, concrete, mosaic, tiles, etc. It ensures excellent adhesion and stabilizes the substrate. It is applied before ER-POX INDUSTRIAL PAINT, ER-POX POOL or FEROX. The primer combined with the FEROX, create the FEROX system. The FEROX system has a strong surface with very high resistances to abrasion and stress. It ensures excellent resistance to the effects of oils and chemicals. The final surface retains its high elasticity avoiding cracks when objects fall on the floor and at the same time reducing the noise. The FEROX system is the ideal solution for floors in industrial areas, warehouses, offices, restaurants, hospitals, pharmaceutical companies, etc. and generally in places where we have special requirements for mechanical and chemical resistances.
Technical information
METHOD OF APPLICATION
Brush, Roller, Spatula
Paint system
The best paint system is presented taking into account factors of ecology, quality, cost and properties. There is also the option of choosing other products for the same use.
For flooring we use FEROX system, that initially the iron primer FEROX after the final color FEROX.