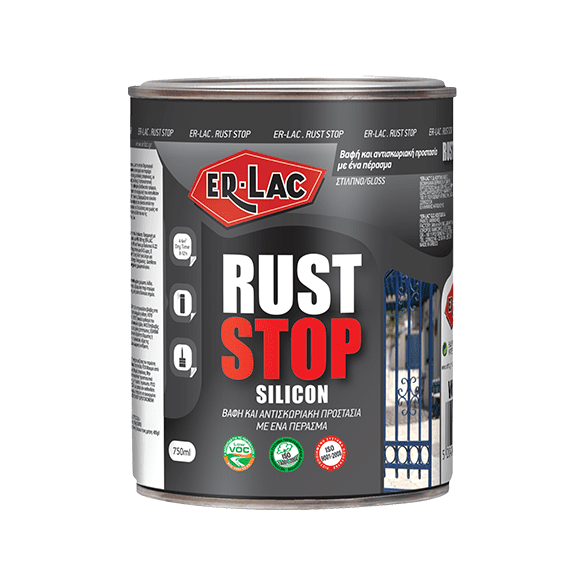 Building
RUST STOP SILICON
Silicon, metal effect mat anticorrosive top coat - 2 in 1
Usage:
Interior, Exterior
Purpose:
Final Coat, Adhesion, Anticorrosive
General characteristics
RUST STOP SILICON is a metal, embossed, hard, silicon paint for metal surfaces. It creates a velvety textured metallic surface with high resistance to moisture and UV radiation. It offers excellent corrosion protection and can be applied without any corrosion substrate.
Technical information
METHOD OF APPLICATION
Roller, Brush, Spray Gun
THINNING
Brush:5% v/v with WS-100
Spray Gun:10% v/v with Χ-2
Paint system
The best paint system is presented taking into account factors of ecology, quality, cost and properties. There is also the option of choosing other products for the same use.
Prepare the surface with the anticorrosive primer RUST PRIMER iron surfaces diluted 10-15% v / v with X-22 and then apply the final paint RUST STOP SILICON diluted 10% v / v with X-22 for application with a gun or diluted 5% with WS-100 for brush or roller