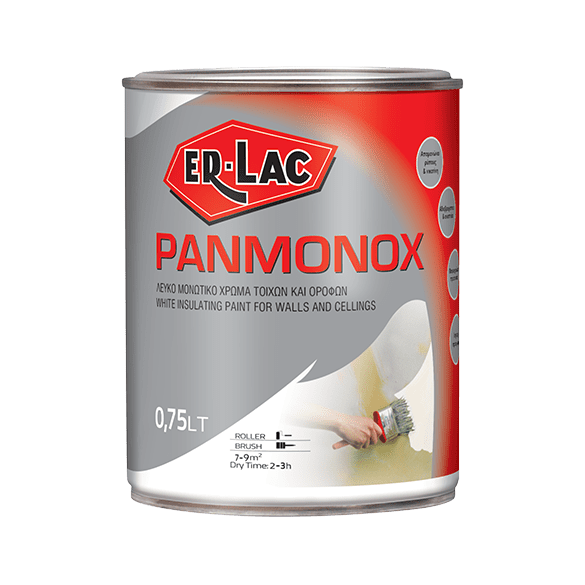 Building
PANMONOX
White, stain insulating paint for walls and ceilings
Usage:
Interior, Exterior
Surface Material:
Plaster, Gypsumboard
Purpose:
Stain blocker, Adhesion
General characteristics
PANMONOX is a white insulating paint for walls and ceilings, with excellent adhesion and high coverage for indoor/outdoor use. Ideal for surfaces of concrete, asbestos, cement, gypsum, masonry, novopan, e.t.c.. The surface is waterproof and breaths. It has strong adhesion and helps stabilize the old surfaces. Especially recommended as a first primer coat on dirty surfaces, as its unique composition isolates all dirt subsiding either from smoke and exhaust fumes or from humidity due to mould, micro-organisms e.t.c.,, thus preventing them to appear on the surface.
Technical information
METHOD OF APPLICATION
Roller, Brush
THINNING
4% v/v with WS-100
Paint system
The best paint system is presented taking into account factors of ecology, quality, cost and properties. There is also the option of choosing other products for the same use.
Prepare the surface with transparent waterproof insulating primer MONODUR diluted 10-40% v/v with WS-100 and then apply the white insulating paint PANMONOX diluted 4% v/v with WS-100.