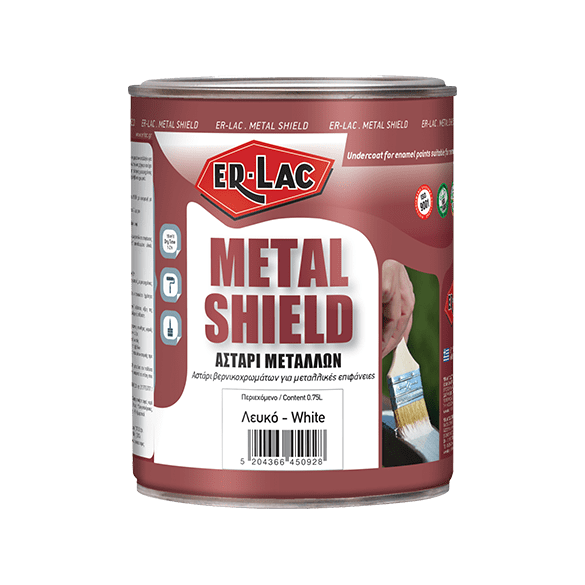 Building
METAL-SHIELD
Undercoat for metal surfaces
Usage:
Interior, Exterior
Purpose:
Adhesion, Anticorrosive
General characteristics
ΜETAL SHIELD is an an alkyd-resin based undercoat for enamel paints, suitable for metallic surfaces but also for walls that have intense problem of dirt, yellowing from smoke and gases. It can be easily applied and dries quickly. It ensures excellent adhesion, high hardness and can be sanded easily. The product does not contain lead or chromates.
Technical information
METHOD OF APPLICATION
Roller, Brush
THINNING
5% v/v with WS-100
DEEP DRYING
επιφανειακό:15min σε βάθος:1-2 h
PACKAGING
0.375L, 0.75L, 2.5L, 5L
Paint system
The best paint system is presented taking into account factors of ecology, quality, cost and properties. There is also the option of choosing other products for the same use.
Prepare the surface with the primer metal surfaces METAL-SHIELD diluted 5% v/v with WS-100 and then apply the final product ER-LUX diluted 3% v/v with WS-100.