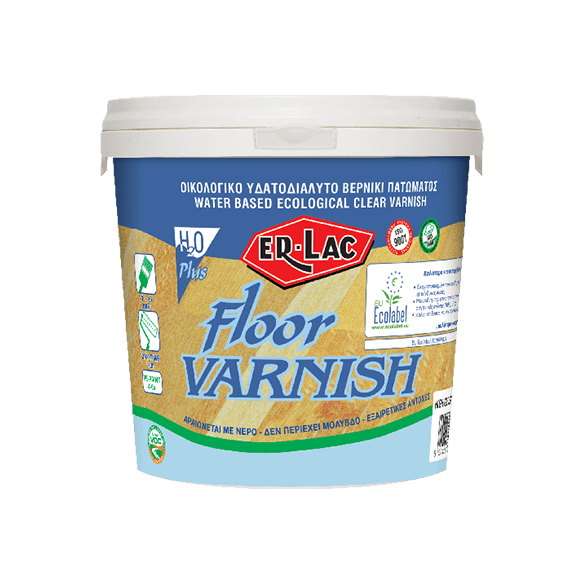 Building
FLOOR VARNISH ECO SATIN
1K Odorless, ecological, water based, satin, floor varnish
Surface Material:
Wooden floors

General characteristics
FLOOR VARNISH is a water-diluted, 1 component, floor varnish, of high quality. It is certified by ASAOS and fulfills the criteria of the European Union Eco-Label Board. Its special innovative composition does not pollute the environment and provides protection for the user. It is odourless, applies easily and provides a smooth and glossy surface with very good mechanical properties. It is very hard, retains high resistance to friction, it is scratchproof and has great elasticity. It is not affected by detergent liquids and retains its gloss for a long time. It is lead free.
Technical information
METHOD OF APPLICATION
Brush, Roller
THINNING
10% v/v with Water if needed
Paint system
The best paint system is presented taking into account factors of ecology, quality, cost and properties. There is also the option of choosing other products for the same use.
For the wooden floor, prepare it with the water soluble transparent primer for wooden floors FLOOR PRIMER N12 diluted up to 10% v/v with water and then apply the ecological satin varnish 1K, FLOOR VARNISH ECO SATIN diluted 10% v/v with water if necessary.