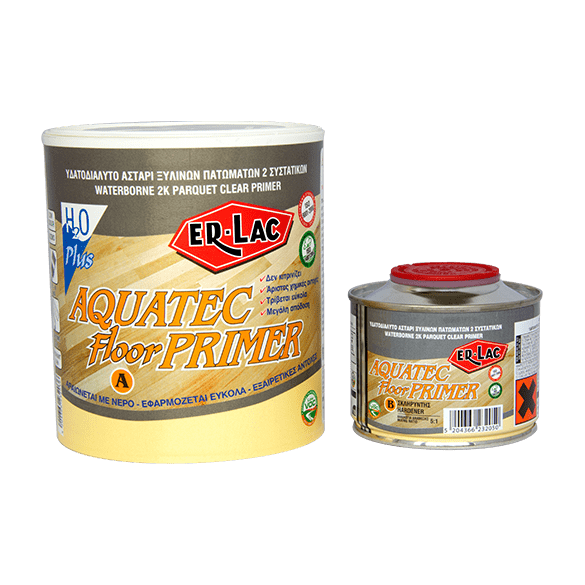 Building
AQUATEC FLOOR PRIMER
2K High quality, water soluble primer for wooden floors
Surface Material:
Wooden floors
General characteristics
AQUATEC FLOOR PRIMER is a high quality, new-technology, water based, polyurethane 2-component undercoat for wooden floors. It is water thinned, odorless and easily applied. It ensures excellent adhesion on all kinds of wooden floors. It is non-yellowing and sands easily, providing high coverage. It is the ideal undercoat for the 2-component water-based AQUATEC FLOOR varnish of ER-LAC.
Technical information
METHOD OF APPLICATION
Brush
THINNING
10% v/v with Water
PACKAGING
A: 1L, 2.5L
B: 200ml, 500ml
Paint system
The best paint system is presented taking into account factors of ecology, quality, cost and properties. There is also the option of choosing other products for the same use.
For the wooden floor, prepare it with the water soluble primer wooden floor 2K AQUATEC FLOOR PRIMER diluted 10% v/v with water and then apply the AQUATEC FLOOR VARNISH thinned 5-10% v/v with water to the desired sheen.