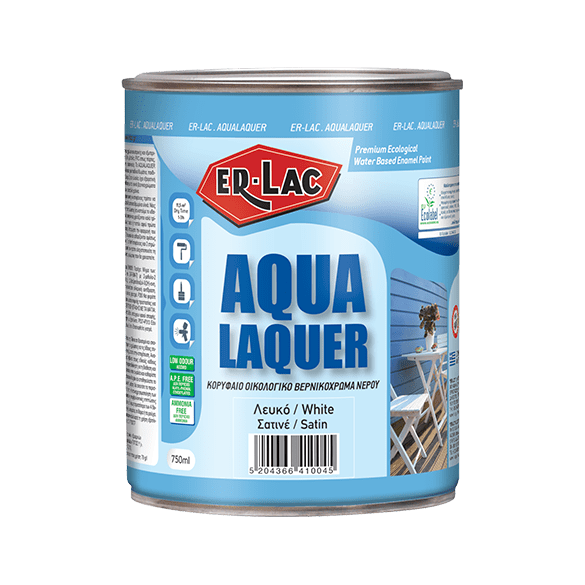 Building
AQUALAQUER ECO
Odorless, ecological, water-diluted high quality non yellowing enamel paint
Surface Material:
Gypsumboard, Wood, Metal

General characteristics
AQUALAQUER is an odorless, new technology, high quality, waterdiluted paint, suitable for indoor/outdoor use. Can be applied on surfaces such as wood, metal, PVC in doors, windows, closets, metallic and wooden constructions. It is the ideal solution for use in children's rooms, kindergartens, schools, hospitals e.t.c. It applies easily, has excellent whiteness, high coverage and is diluted by water. In comparison with ordinary enamel paints it preserves its gloss for many years and it does not yellow. Minimized content of hazardous substances. Reduced content of volatile organic compounds (VOCs). It is suitable for children's rooms, hospitals, schools, kindergartens. «Certified by ASAOS according to the criteria of the European Union Eco-labelling Board (EUEB)» It is certified in the A+ Category of the French VOC Regulation from the accredited laboratory Eurofins. It is certified for use on children toys according to EN71-3.
Technical information
METHOD OF APPLICATION
Roller, Brush, Spray Gun
THINNING
10-20% v/v with Water
PACKAGING
0.375L, 0.75L, 2.5L
Paint system
The best paint system is presented taking into account factors of ecology, quality, cost and properties. There is also the option of choosing other products for the same use.
If the surface is made of wood, prepare it  with white primer water UNIPRIMER diluted 5-20% v/v with water and then applying the AQUALAQUER ECO diluted 10-20% v/v with water. If the surface is metallic, prepare it  with the anticorrosive primer RUST PRIMER diluted 10-15% v/v X-22 and then apply the AQUALAQUER ECO diluted 10-20% v/v with water.