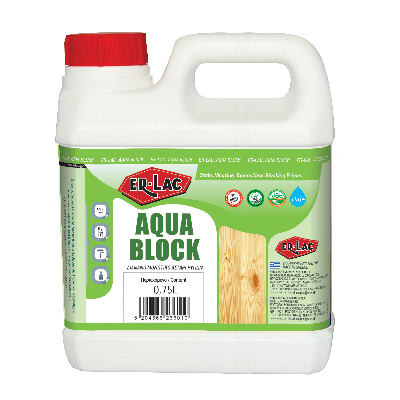 Building
AQUA BLOCK
Stain, Nicotine, Tannin Clear Blocking Primer
Usage:
Interior, Exterior
Surface Material:
Wood, Plaster, MDF
Purpose:
Adhesion, Stain blocker

General characteristics
AQUA BLOCK is a transparent stain and tannin insulating water-based primer for indoor and outdoor use, suitable for all types of soft and hard wood. It is applied as an insulator on resinous and oily wood surfaces with knots, before the application of water based varnishes and paints. Prevents the appearance of stains on the surface of the final coating which are caused from knots, resins, oils and tannins. It does not affect the color of the wood. It dries quickly and fills evenly. Additionally, it insulates stains from nicotine, tobacco, markers and dirt on interior walls and ceilings. Can be painted over with all water-based paints and varnishes.
Technical information
METHOD OF APPLICATION
Roller, Brush, Spray Gun
THINNING
0-10% v/v with Water