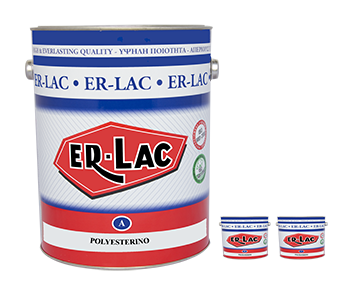 Furniture
POLYESTERINO
Transparent, polyester substrate for vertical and horizontal surfaces
Surface Material:
Plywood, MDF, Wood
Purpose:
Adhesion, Filling, Stain blocker
General characteristics
POLYSTERINO is a transparent polyester substrate for vertical and horizontal surfaces. It is used in furniture to fill the pores of the wooden surfaces before applying the final varnish. It is a high solids product and is applied in a thick layer. These characteristics ensure perfect results combined with low cost. For most applications just one layer is enough. If needed apply a second layer only after sanding the first. Dries fast and sands easy.
Technical information
METHOD OF APPLICATION
Spray Gun, Airless, Curtain
THINNING
10-20% w/w with ACETONE
PACKAGING
A: 22Kg B: 0.5Kg C: 0.5Kg
MIXING RATIO
22A : 0.5B : 0.5C
Paint system
The best paint system is presented taking into account factors of ecology, quality, cost and properties. There is also the option of choosing other products for the same use.
Prepare the surface with transparent polyester substrate POLYESTERINO diluted 10-20% w/w with ACETONE and then apply the clear varnish polyurethane 2K FINISH diluted 20-30% v/v with No.102 or No.302.