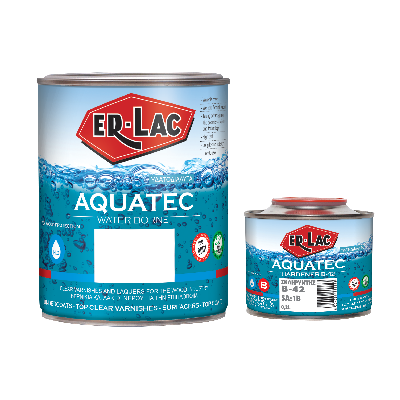 Furniture
AQUATEC FINISH 2K 42200
Odorless, 2K Watersoluble varnish for furniture
Surface Material:
Plywood, MDF, Wood
Purpose:
Final Clear Coat
General characteristics
AQUATEC FINISH is new technology, a two component watersolube varnish for furniture. It is water thinned, odourless, easy applied, providing an excellent surface with outstanding resistances. It is non-yellowing and retains brightness for many years. Its resistances can be compared only with those of solvent 2-component varnishes. Available in gloss values of 10%, 30%, 45%, 60% and Gloss.
Technical information
METHOD OF APPLICATION
Spray Gun, Airless, Curtain
THINNING
10-20% v/v with Water
PACKAGING
A: 1L, 5L, 10L
B: 0.2L, 1L, 2L
GLOSS
Gloss, Satin, Mat, Slightly satin
Paint system
The best paint system is presented taking into account factors of ecology, quality, cost and properties. There is also the option of choosing other products for the same use.
Prepare the surface with water soluble transparent substrate 2K AQUATEC DUR 42100 diluted 10% v/v with water and then apply the final water soluble varnish 2K AQUATEC FINISH 42200 diluted 20% v/v with water.