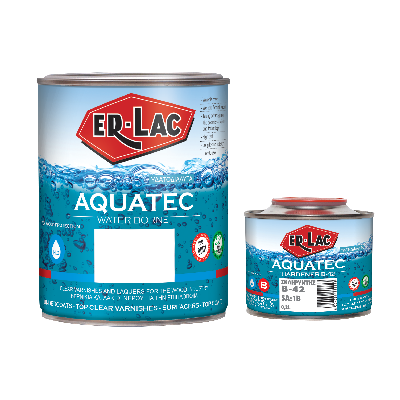 Furniture
AQUATEC DUR 2K 42100
Odorless, water-soluble 2-Component polyurethane undercoat
Surface Material:
Plywood, MDF, Wood
General characteristics
AQUATEC DUR is Polyurethane, 2-component undercoat of high quality and new technology, suitable for filling the pores of wooden surfaces, for furniture, and buildings. It is water diluted, odourless and applies easily, It ensures excellent adhesion on every kind of wooden surface. It is easily sanded down. It is non-yellowing, provides great coverage and is the ideal undercoat for the "ER-LAC" 2-component watersoluble AQUATEC FINISH varnish
Technical information
METHOD OF APPLICATION
Spray Gun, Airless, Curtain
THINNING
10% v/v with Water
PACKAGING
A: 1L, 5L, 10L
B: 0.2L, 1L, 2L
Paint system
The best paint system is presented taking into account factors of ecology, quality, cost and properties. There is also the option of choosing other products for the same use.
Prepare the surface with water soluble transparent substrate 2K AQUATEC DUR diluted 10% v/v with water and then apply the final water soluble varnish 2K AQUATEC FINISH diluted 20% v/v with water.