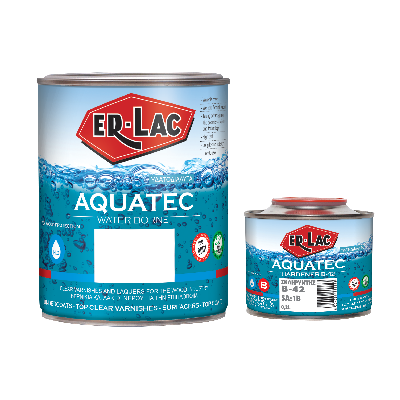 Furniture
AQUATEC FINISH 1K 31200
Odorless, Waterborne clear varnish
Surface Material:
Plywood, MDF, Wood
Purpose:
Final Clear Coat
General characteristics
AQUATEC 1K. SUPERFINE is odorless, acrylic based, waterborne transparent coat for furniture and construction. Applies easily with spray gun and creates a smooth and hard surface which doesn't yellow with time. It stands out as it is odorless, applies easily, dries fast, sands easily and it is known for its excellent durability. It is the ideal solution for the finish of wooden surfaces and furniture intended for interior use. Available in gloss, satin and mat.
Technical information
METHOD OF APPLICATION
Spray Gun, Airless, Curtain
THINNING
10-20% v/v with Water
GLOSS
Γυαλιστερό, Satin, Mat
Paint system
The best paint system is presented taking into account factors of ecology, quality, cost and properties. There is also the option of choosing other products for the same use.
Prepare the surface with the water-insoluble substrate AQUATEC DUR 1K 31100 diluted 10% v/v with water and then apply the water-soluble final varnish AQUATEC FINISH 1K 31200 diluted 10% v/v with water.