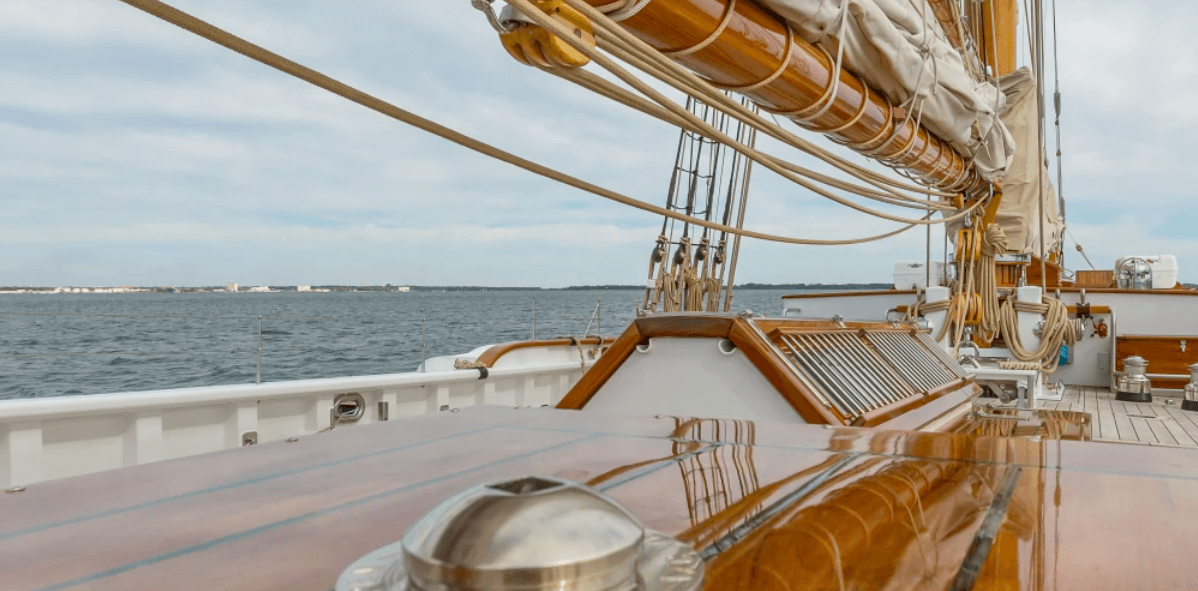 ER-LAC has excellent quality products, specialized for boats and ships, specially designed to withstand the saltiness of the sea and high humidity.
S-86 MARINE TOP COAT is a two-component final paint for boats with UV filters and a specially modified non-yellowing resin base. It is for internal and external use on all wooden, metal, polyester and carbon surfaces of boats (handrails, seats, doors, windows, steering wheels, etc.). The S-86 MARINE TOP COAT is available in unlimited shades. Its result remains unchanged for a long time and thus does not need repainting every year.
For WOOD SURFACES, combine S-86 MARINE TOP COAT with S-86 Undercoat. It is a 2-component primer, for preparing wooden surfaces for 2-component paints. It is suitable for all interior and exterior wooden surfaces. In combination with the final color S-86, it ensures long-term protection and high aesthetics. For the exterior part of the boat and for areas such as doors, windows, furniture, interior and exterior, combine S-86 UNDERCOAT with any shade of S-86 MARINE TOP COAT desired. Even for the bottom of the boat, the combination of substrate and S-86 paint is the ideal protection and coloring system, for an unchanged result.
For METAL SURFACES, ER-POX A+B PRIMER is the ideal choice, as it is a 2-component epoxy-based primer. It stands out as it has very good mechanical properties and offers long-term satisfactory protection against rust even in the most difficult weather conditions. If you want to protect and paint any metal surface on the boat, combine ER-POX A+B PRIMER with S-86 MARINE TOP COAT in the desired shade. In this way, the surfaces will not rust and their color will not peel off over time.
The S-86 MARINE TOP COAT, in combination with the S-86 UNDERCOAT or the ER-POX A+B PRIMER achieves the ideal paint system for an excellent result and incomparable durability in the difficult conditions of humidity, salt, and sun.
S-86 MARINE CLEAR VARNISH is the ideal choice if you want to protect the surfaces on your boat without painting them. It is a 2-component transparent varnish, which protects against salt, moisture and sun, as it contains UV filters. It is suitable for any wooden, metal or polyester surface on the boat. It can be used to freshen and shield already painted surfaces or to enliven and protect unpainted wood, metal or polyester surfaces.
For the upper part of the boat and specifically the wooden surfaces, trust the transparent SUN BLOCK varnish and the protective TEAK OIL. These two products can be used together and give a top result of care and protection of the wood.
SUN BLOCK is transparent varnish based on special synthetic silicon resins for interior, but especially for exterior wooden surfaces, as it highlights their natural beauty. It stands out because it contains special, state-of-the-art UV filters, which fully protect wooden surfaces from solar radiation. It forms a hard and at the same time elastic water-retaining surface offering long-term protection from sun, humidity, rain, sea and difficult weather conditions. It does not peel and maintains its gloss over time.
TEAK OIL is a mixture of natural oils combined with protective waxes. It is suitable for refreshing and maintaining mainly teak furniture and other hard woods such as iroko, but also for any other wooden surface. It revitalizes wooden surfaces by replacing lost oils from sunlight, moisture, fungi, rot and harsh weather conditions.
At ERLAC we offer excellent quality products, suitable for a wide range of applications. The Yacht Line product line covers specialized applications in the maintenance of a vessel. Look for more information about the products of the series on our site or in partner stores.