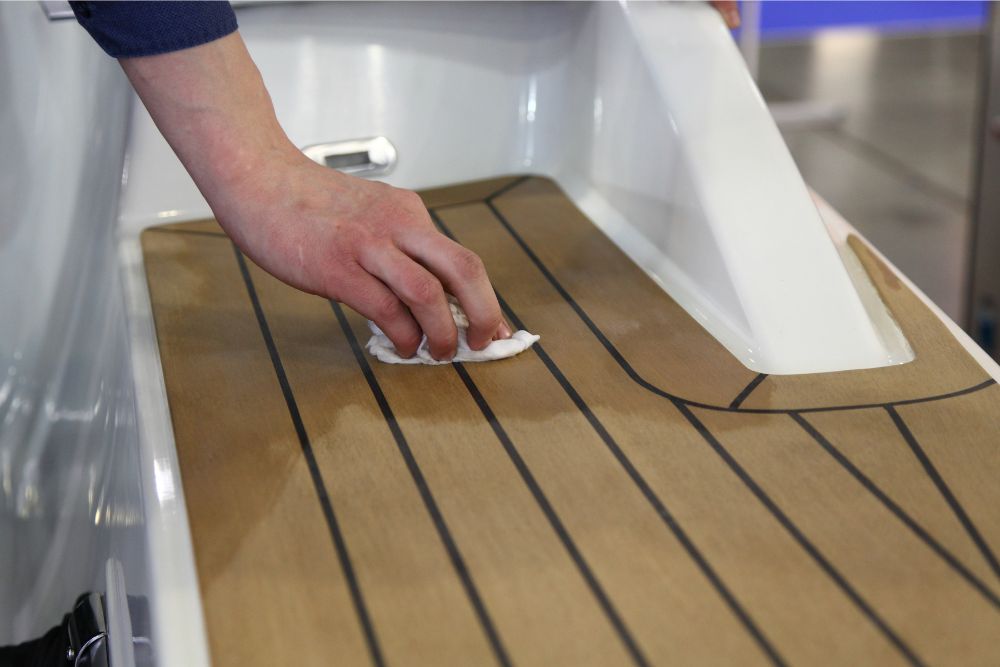 Teak wood is renowned for its natural beauty, durability, and resistance to harsh marine environments, making it a popular choice for decking and interior elements on yachts. However, without proper care and maintenance, teak can lose its luster and succumb to weathering and degradation over time. To ensure the long-lasting elegance of teak on yachts, ER-LAC presents a comprehensive range of teak care products designed to revive, protect, and enhance wooden surfaces. In this article, we will explore two exceptional products: TEAK OIL and AQUA DECK OIL. Discover how these products provide optimal care for teak and other wooden surfaces on yachts, ensuring their longevity and natural beauty.
TEAK OIL: Preserving and Reviving Wood
ER-LAC's TEAK OIL is a unique blend of natural oils and protective wax, specifically formulated to rejuvenate and maintain wooden surfaces. Here are the key features and benefits:
Preservation and Revival: TEAK OIL replenishes the natural oils that wooden surfaces lose due to exposure to sunlight and harsh weather conditions. By doing so, it revitalizes the wood, enhancing its appearance and showcasing the natural grain.
Versatile Use: Ideal for teak, iroko, and other hardwood surfaces, TEAK OIL is suitable for refurbishing and maintaining various wooden surfaces. Whether it's porch furniture, balcony installations, garden furniture, or interior wooden surfaces, TEAK OIL offers excellent care and protection.
Weather Resistance: With its protective wax content, TEAK OIL shields wooden surfaces from rough weather conditions, including UV radiation and moisture. This helps prevent deterioration, fading, and damage caused by exposure to the elements.
AQUA DECK OIL: Superior Protection and Enhanced Beauty
ER-LAC's AQUA DECK OIL is a water-based, clear low-build varnish specially designed for wooden decks. Consider the following advantages of this remarkable product:
Advanced Technology: AQUA DECK OIL utilizes state-of-the-art multiphase nanotechnology acrylic binders, ensuring excellent elasticity and superior penetration. This allows the oil to deeply nourish and protect wooden surfaces, extending their lifespan.
UV Protection: Formulated with innovative UV filters, AQUA DECK OIL safeguards wooden surfaces from the damaging effects of solar radiation. This protects the wood from discoloration, fading, and degradation, preserving its natural beauty over time.
Easy Application: AQUA DECK OIL applies easily and creates a tack-free surface, offering convenience and efficiency during the application process. Its excellent wet resistance and antiblocking properties further enhance the user experience.
Customizable Shades: AQUA DECK OIL can be tinted using ER-LAC's Colormix System, allowing yacht owners to create beautiful natural shades that complement their desired aesthetic. This versatility ensures a personalized and visually appealing result.
Conclusion:
ER-LAC's TEAK OIL and AQUA DECK OIL are the go-to solutions for the care and maintenance of wooden surfaces on yachts. TEAK OIL restores and protects hardwood surfaces, while AQUA DECK OIL provides superior protection, elasticity, and UV resistance for wooden decks. These products enhance the natural beauty of wooden surfaces and ensure their longevity in challenging marine environments. Choose ER-LAC's teak care products to keep your yacht's wooden surfaces in optimal condition, and enjoy the timeless elegance and durability they provide.