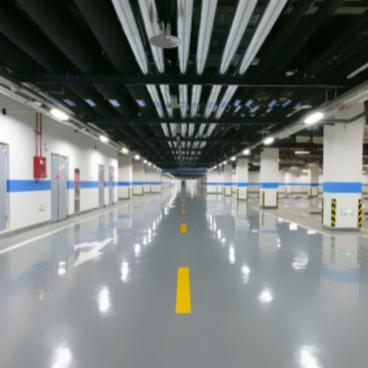 Industrial floors have special requirements and need high quality materials. At ER-LAC we have developed two epoxy systems to cover all needs in industrial spaces.
Self-Leveling Industrial Floor
FEROX
FEROX is a two-component epoxy-based synthetic flooring material, for indoor use. It is a high solid material, almost 100% solids. This means that the evaporation of solvents is minimal and almost all material applied on a surface remains after the reaction is complete. With the use of the primer, it has excellent adhesion to surfaces of concrete, mosaic, industrial floors, wood, metal, e.t.c. It has excellent mechanical properties, it is excellent chemical resistances against oil and strong chemicals. The final surface is strong, elastic, impact resistant, non-absorbent, satin and can be easily cleaned with all types of detergents. It is recommended for industrial floors, warehouses, offices, restaurants, hospitals, chemical, pharmaceutical factories and in places where we have specific requirements for mechanical and chemical resistances
High Performance Epoxy Paint
ER-POX INDUSTRIAL PAINT
ER-POX INDUSTRIAL PAINT is an excellent quality 2 component multi-usage epoxy industrial paint. It is suitable for interior use, metal structures, industrial floors, concrete floors and vertical walls. It has excellent adhesion, hardness, elasticity and excellent resistance to chemicals. Due to its special composition, it offers long-lasting protection, does not peel and does not lose its elasticity at temperatures from -20°C to 60°C. It has very good impermeability to water, high resistance to humidity and intense stress. It is suitable for areas with increased sanitation interest as it creates a durable, smooth, glossy, non-absorbent surface, which is easily and effectively cleaned and has a high resistance to cleaning fluids.
Tip: Use quartz sand on the surface of the product to create floors with reduced slippage.
Select the system you are interested in or contact the Technical Department for more information.