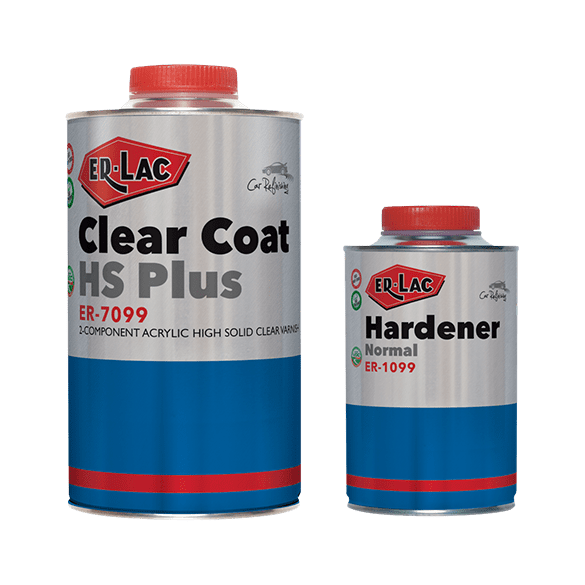 Car refinishing
CLEAR COAT HS-PLUS ER-7099 + HARDENER(2:1)
2K acrylic high solids plus clear varnish
Purpose:
Final Clear Coat
General characteristics
CLEAR COAT HS-PLUS ER-7099 + HARDENER(2:1) is a clear, 2 component, acrylic car varnish, very high solids. Used with Hardener NORMAL HS PLUS ER-1099 for regular temperatures, FAST HS PLUS ER-1099 for low temperatures and SLOW HS PLUS ER-1099 for high temperatures.
Technical information
METHOD OF APPLICATION
Spray Gun
THINNING
0-15% with 202 Normal or Slow
DEEP DRYING
20-30 min/60oC
PACKAGING
A: 1L, 5L
H: 0.5L, 1L, 2.5L, 5L
Paint system
The best paint system is presented taking into account factors of ecology, quality, cost and properties. There is also the option of choosing other products for the same use.
Paint the surface with the final color BASE COAT ER-B-809 diluted 30-50% with 202 Slow and then applying the transparent acrylic finish varnish CLEAR COAT HIGH SOLIDS ER-7099 + HARDENER (2: 1).