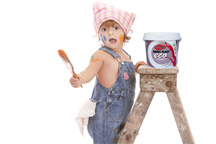 To paint your ceilings you will need:
A special brush for the corners
An adjustable and extendable roller brush
Tape
A sturdy ladder
Important Tip: If you are painting your ceilings for the first time, or if they were previously only painted with a water-based paint, apply MONODUR primer before painting. MONODUR is an acrylic-based, clear, insulating primer for paints. It is ideal for concrete, brick, plasterboard, mortar surfaces as well as old surfaces that offer little to no adhesion due to use of glues, or low-quality paints. MONODUR isolates dirt and doesn't allow it to penetrate and appear in the paint layer, it ensures great adhesion in alkaline surfaces, provides water-resistance and penetrability to the application surface.
The steps you need to follow are:
Remove all easily removable items, such as lighting fixtures. In case items like chandeliers or ceiling fans are not easily removable, make sure to cover them diligently prior to application.
Next, apply tape to all ceiling surfaces that meet the wall. If you are planning to use the same shade on the walls as well, skip this step.
Begin your application by using the brush on the edges of the ceiling. Paint about 10 cm on each side, so that you get a uniform result and avoid any potential paint splatter by the roller brush on the sides, or the wall.
Next, paint the the larger, remaining surface with the roller brush. Begin your application ideally near a window, as the light reflection on the ceiling will help you see better what you are painting. While painting please take care to:

Reduce the speed of application when close to the edges to avoid any paint splatter on the walls.
Do not apply to much pressure on the roller brush, in order to avoid dripping and splashing.
Every time you saturate the paint brush with paint, start painting from the un painted side towards the painted parts.
Paint the entire surface without any long breaks, to ensure uniformity in the drying time and finish.
If you wish to apply an additional layer, check that the previous layer has dried sufficiently.
Happy Painting!