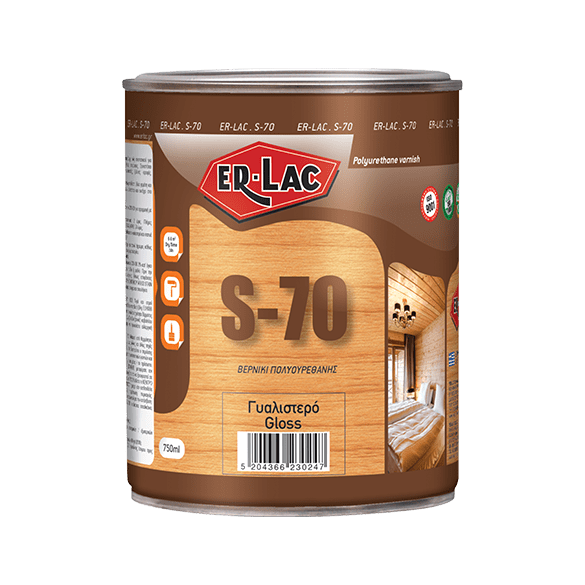 Building
S-70
Polyurethane varnish for wooden surfaces
Usage:
Interior, Exterior
Purpose:
Final Clear Coat, Wood protection
General characteristics
S-70 is a 1-component polyurethane-based varnish for indoor/outdoor use. It is suitable for all the kinds of wooden surfaces and ensures long lasting protection. It is suitable for wooden frames, doors, ceilings, wooden walls and generally for all the kinds of wooden surfaces. Applies easily and provides high coverage. It is scratchproof, crack-resistant and creates a hard surface. It can be tinted according to the Wood Stain color card.
Technical information
METHOD OF APPLICATION
Brush, Roller
THINNING
Up to 3% v/v with WS-100
DEEP DRYING
ελεύθερο σκόνης:2h ,ελευθερο στην αφή:4-6h ,σε βάθος:24h
PACKAGING
0.180L, 0.375L, 0.75L, 2.5L
Paint system
The best paint system is presented taking into account factors of ecology, quality, cost and properties. There is also the option of choosing other products for the same use.
If the surface is new, prepare it with the fungicide impregnating varnish WOOD STAIN 1030 and then apply the polyurethane varnish S-70 diluted up to 3% v/v with WS-100.